Now Minnesota's most unusual brewery is offering GROWLERS of beer!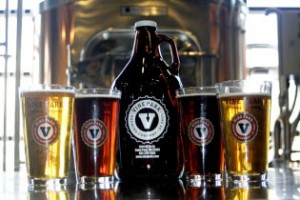 Andy brews up a batch every week and you can get some until we run out. Recipes will rotate but the one constant is that they will be fresh and handcrafted each week in our all-grain brewing system. While we expect most of our growlers will go out the door with our brewers & wine makers, they are available for walk-ins too!
"Year of Beer" card
Save money on your Growlers with a "Year of Beer" card from Vine Park. This card costs $100.00 and entitles the bearer to get twelve fills of a Vine Park Growler jug. Those twelve refills can be spread over 12 minutes, 12 days, 12 months, or heaven forbid 12 years. Save $56 over the life of the card.
The key is instead of paying $13 for a refill, the YOB card means you are paying only $8.33! If you are really feeling generous, these make a great gift, while you can order the Year of Beer card online, you must stop by to get the actual Growler jug.
F.A.Q.s
What the heck is a Growler?
A Growler is a 64 oz jug of freshly brewed beer that has been filled for you.
How much do they cost?
Your growler will cost you just $5.00 and we will fill it with our standard recipes for $13.00. At various times, we may brew specialty beers that will have a unique price.
How long will it last?
Growlers are closed with a screw top cap. You must keep the beer refrigerated and once the cap has been opened, you will want to consume the beer as it will start to go flat, just like any bottle of beer you have opened.
So, now we can drink at Vine Park while brewing?
Nothing has changed. Growlers are an off premise item. Take it home, to a friend's home, to a party, or wherever you can legally take bottled beer to consume.
Can we get it anytime?
No, growler sales are limited to the same hours of operation as a liquor store in Saint Paul. The growlers must be removed from the brewery during that same time period.
How do I save money on growler refills?
Buy a "Year of Beer" Growler Punch Card for yourself or give as gift. The card entitles you to twelve refills of your Vine Park Growler with some of our small batch hand crafted beers. $100 gets you $156 of beer. Heck of a deal! Get one now!
What do I do with the jug?
Once you've emptied it, clean it with hot water (3 rinses), store it upside down, and bring it back with you for refilling.  If you choose not to get a refill we can log it in our computer data base for future use or we will gladly buy it back for $5.00.
Jugs not cleaned can NOT be accepted back. We will gladly sell you a new one for your next fill if the growler is not clean. No growlers from other breweries can be legally refilled by Vine Park.